Quarterly meeting on December 12, 2018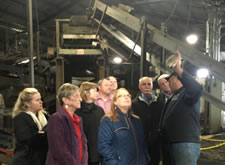 The Arkansas State Marketing Board for Recyclables and Compliance Advisory Panel (CAP) held its quarterly meeting on Wednesday, December 12, 2018, in Little Rock, Arkansas. The meeting began at 10:00 a.m. at the Arkansas Department of Environmental Quality (ADEQ) Headquarters at 5301 Northshore Drive in North Little Rock. Following the meeting the Board toured the Davis Rubber Company at 1800 East 14th Street in Little Rock.
At the meeting, panel members discussed small business air permitting assistance needs, legislative changes that affect small businesses, and conducted an annual budget review. ADEQ's Tire Accountability Program presented a program overview during the meeting.